BancPass Launches New BancPass Pay n Go Program with Georgia State Road and Tollway Authority to Implement a Cash Reloadable, Pay As You Go, Toll Account Option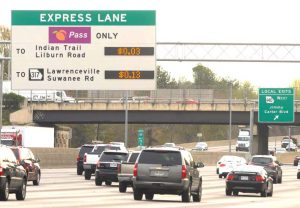 AUSTIN TEXAS – August 19, 2020 BancPass, Inc. announced today the launch of the BancPass Pay n Go program through a contract with the Georgia State Road and Tollway Authority (SRTA). Under the contract, BancPass is an authorized, licensed Peach Pass vendor and will distribute BancPass Pay n Go Starter Kits, and enable cash reloads through their retailer partner network. The BancPass Pay n Go program is designed to provide under-served and cash-based Users, the opportunity to establish and maintain a transponder-based account and enjoy the benefits and cost savings of electronic tolling, while still using cash as an option to prefund their account.
BancPass Pay n Go Starter Kits are available for purchase at participating retailers throughout Georgia including Kroger Money Services. The Starter Kit includes a Peach Pass transponder and a Reload Plus Card. Upon purchase, the account is activated with tolls automatically loaded onto the account. After registering the vehicle's license plate through text message, the BancPass customer service center, or the BancPass phone app, Users can drive the road. Customers can replenish their accounts at any participating retailer using cash or debit; or through the BancPass phone app or website using credit.
BancPass launched its first Cash Reloadable, Pay As You Go retail program, in 2015, through the Harris County Toll Road Authority in Houston, TX. Since then, the program has expanded through many retail partners and into other cities across Texas. BancPass partnered with the Kansas Turnpike Authority to launch the Pay As You Go program in 2019. Shannon Swank, Chief Marketing Officer for BancPass, stated, "We are excited to continue to expand our Cash Reloadable, Pay As You Go program, in partnership, with innovative toll agencies. SRTA has been a leader in providing their customers with payment options, and we are thrilled to be working with them."
"Peach Pass is pleased to partner with BancPass to offer this enhanced 'pay n go' service for our customers who prefer our cash payment option", stated Ericka Davis, Chief Communications Officer for Georgia's State Road and Tollway Authority. "BancPass offers our customers new amenities such as no minimum balance requirement, use of a mobile app and account status text reminders which provides an added convenience to riding the Express Lanes."
In addition to the BancPass Pay n Go program, BancPass launched Its PlusPass® mobile app with the State Road and Tollway Authority in 2019.
---
About BancPass
BancPass is a Texas Corporation and Fintech company focused on providing consumer payment options for in-vehicle, Pay In Motion™ (PIM™) transactions including tolling, parking, and other commercial markets. BancPass leverages retail efficiencies and secure, proven payment platforms to deliver convenient, cost-effective solutions to consumers and operators alike. BancPass provides self-managing payment and account options through its BancPass Toll Sticker and PlusPass® solutions. BancPass also provides opportunities for third-parties to license its patented technology.
---
About Georgia State Road and Tollway Authority (SRTA)
SRTA is a state-level, independent authority created to operate tolled transportation facilities within Georgia and act as the transportation financing arm for the state. SRTA manages the collection of tolls on Georgia's Express Lanes System through the use of Peach Pass. Peach Pass gives drivers access to all current and future Georgia toll facilities, including the I-85, I-75 South Metro, and Northwest Corridor Express Lanes and is accepted by Florida's SunPass system and North Carolina's Quick Pass system. In October 2019, SRTA reached over a million active Peach Pass tags. In 2017, SRTA combined with the Georgia Regional Transportation Authority (GRTA) to jointly provide the services of both state authorities. The GRTA board continues to oversee developments of regional impact, air quality reporting and regional transportation plan approval.
---
For more information, contact:
Shannon Swank | Chief Marketing Officer | 512.971.9741 | Shannon.swank@bancpass.com
John Freund | President & Investor Relations | 949.547.3238 | John.freund@bancpass.com