HCTRA FAQ
HCTRA SYSTEM UPDATE
Harris County Toll Road Authority (HCTRA) shut down their system in June for updates.  During the approximately two weeks the system was down, they were unable to process transactions.  The system is back up now;  however there are continued delays in processing transactions.  These problems are not unique to BancPass customers; all customers who drive toll roads in Harris County have been affected.  See "WHERE ARE MY TRANSACTIONS?/WHY ISN"T MY APP UPDATING MY TOLLS", below.
How is the EZ Tag by BancPass program different from the HCTRA EZ Tag program?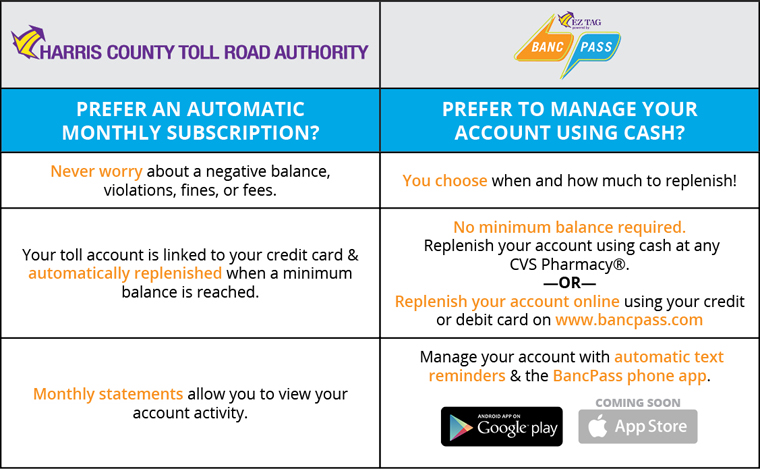 Where does the EZ Tag by BancPass work?
Your BancPass EZ Tag will work on ANY toll road in TEXAS! The BancPass EZ Tag does not work outside of the state of Texas.
BancPass EZ Tag users will be charged the electronic EZ Tag discounted rate.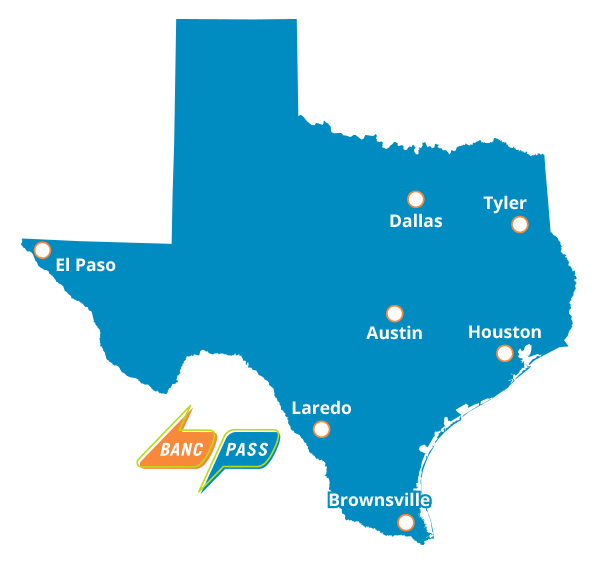 Where can I get my cash reloadable EZ Tag by BancPass?
Purchase your EZ Tag by BancPass at online at www.bancpass.com/purchase/ or participating retailers!
WHERE ARE MY TRANSACTIONS?/WHY ISN'T MY APP UPDATING MY TOLLS?
Because of HCTRA's billing delays, you may notice that you have taken trips that HCTRA has not charged you for yet.  This is not an error with the BancPass system.  this is an error with HCTRA's billing system.   They are working to get their system up-to-date.; however we do not have an eta for when they will be completely caught up.  Please see HCTRA system update.
DO I HAVE VIOLATIONS?
Some of our customers have seen on the HCTRA website that they have "un-invoiced violations" or that they "missed a toll" even though they had money in their BancPass account.  This is an error that HCTRA is working to correct.  If you are a BancPass accountholder in good standing, HCTRA will move those tolls out of violations and post them to your BancPass account.  This only applies to un-invoiced tolls for current BancPass customers whose accounts were in good standing at the time of the un-invoiced violation.   If you have received a violation in the mail, please see "what if I got a violation notice in the mail" HCTRA has not given BancPass an ETA for when they will charge your BancPass account for those tolls.
WHAT IF I GOT A VIOLATION NOTICE IN THE MAIL?
Sometimes errors happen in the toll agencies' systems and violation notices are sent out to customers with a valid toll tag account.  If you get a violation notice in the mail when your BancPass account was in good standing, send an image of the violation notice to support@BancPass.com. Please include the detailed page showing the license plate, time/location and toll amount.  BancPass can dispute these violations on your behalf as long as your account was in good standing at the time of the violation.  
WHAT IF DEACTIVATE MY EZTAG BY BANCPASS?  WILL I STILL HAVE TO PAY FOR PENDING TOLL CHARGES?
Deactivating your tag only means that HCTRA will not charge your BancPass account for tolls in the future.  You are still responsible to pay for all of the toll trips you took before deactivation.  If you used a toll road, the toll agency who manages that road expects you to pay that toll, whether or not you deactivate your tag or close your account.  See "how does BancPass work"
I HAVE A DISABLED VET PLATE. WHY AM I BEING CHARGED?
HCTRA offers free tolls for disabled veterans, however their billing system is currently charging disabled vet (DV) plates in error.  They are charging DV plate accounts for the toll and then crediting them every few days.  HCTRA is working to correct this billing error.